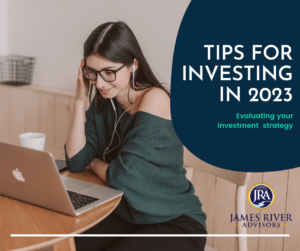 When evaluating your investment strategy, we encourage you to look at our top tips for investing in 2023. Our top tips for investing apply any time but are especially relevant if you are looking to examine your current plan. Given the current financial world and political climate, it's normal to experience doubts and concerns.  While we cannot know for sure what 2023 holds, keep in mind these dos and don'ts of investing. Our top tips for investing in 2023 focus on one main theme – helping you establish peace of mind. It's important to revisit these basic investment principles once in a while so you can feel confident in your strategy.
DO keep in mind your long-term financial goals. While a year or two of volatility might make you feel nervous, it's important to remember your investment strategy goes beyond those few years. Investing is a long-term game. Your investments will fluctuate over the short-term, but if the overall trend is upward, a small decline for one year might not be worth worrying about.
DON'T make emotional or reactive decisions when investing. It's natural to see a headline and feel an impulse to react by adjusting your investments. However, since investing is a long-term game, it may serve you better in the long run to wait it out. If you have major concerns, speak to your financial advisor or a financial planner.
DO take advantage of any tax benefits or breaks. This is the time of year when people are getting ready to file taxes. If you are expecting a refund, consider investing that money. If not, you may explore the many methods to help manage the amount of taxes you may owe each year.  It is important to incorporate all aspects of taxation in your financial strategy.
DON'T check your assets or portfolio too often. We do recommend keeping an eye on your investments, but you can monitor growth by checking your assets once a month. Checking your assets once a month allows you to stay informed without worrying too much about the day-to-day fluctuations of the market.
DO remember to make decisions that align with your unique risk threshold. Some individuals are willing to take greater risks for a higher return, while others prefer to play it on the safer side. While all investments require some risk, an advisor can help you make choices that you are comfortable with. Click here to find out your risk number.
DON'T get overly confident when your risks pay off. Take time to celebrate when one of your investments yields a profit, but make sure you don't get overconfident. If you are comfortable taking big risks, make sure you are still being conservative enough to realistically meet your goals.
DO meet with an advisor. A professional financial advisor can act as your sounding board for investment ideas. At James River Advisors, we act as a fiduciary to you, meaning your financial well-being is our top priority. You can trust that when you meet with us, we will always give you our honest opinion regarding your portfolio and plan. Contact us today for a free consultation.
DON'T feel like you need to make your decisions alone. Consulting with someone who has your best interests at heart can give you solid feedback and ideas. A financial advisor can help you develop a well-rounded plan, so you can stay on track and meet your goals – just make sure your financial advisor is a fiduciary.
These are some of our top tips for investing in 2023. We hope these dos and don'ts give you a good place to start. We believe getting a second opinion on your investment strategy is essential to meeting your goals. We strongly encourage you to set up a meeting with James River Advisors if you want to hear more about how we may be able to help with your investment goals for 2023 and beyond.